Early in the morning of February 15, 2013, thousands of residents of the city of Chelyabinsk, as well as the nearest settlements, observed a unique phenomenon – a meteor shower rained over the Ural part of Russia.
Residents of the city of gunsmiths of Zlatoust, were also able to see the fall and explosion of a huge celestial body in the dark morning sky.
The meteorite flew from East to West from Chelyabinsk in the direction of Zlatoust. The largest fragment flew to Lake Chebarkul 50 km from Zlatoust. This is clearly visible on the map.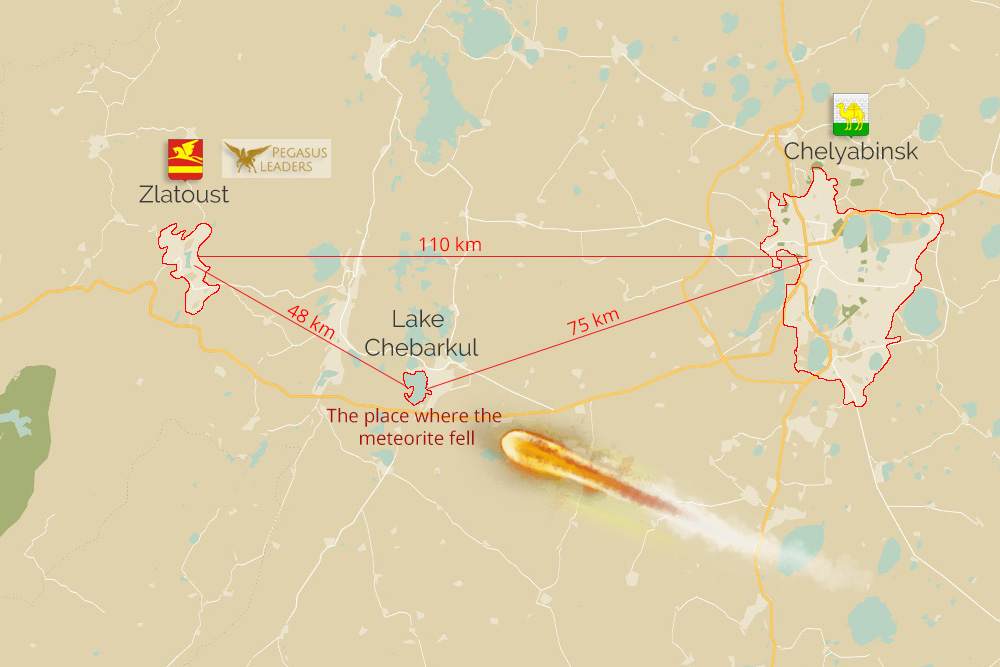 Map of the fall of the Chelyabinsk meteorite and the location of Zlatoust
Our masters in their 200 years of history have used a huge amount of noble materials, but a meteorite has never before. It was decided to make gold medals for the upcoming 2014 Winter Olympic Games in Sochi.
Olympic medal with meteorite
Gold Olympic medals are an amazing gift, but the first 10 Olympic champions have already won all the medals. You say what can be purchased from a meteorite for yourself or as a gift?
Masters prepared an amazing knife. The "Taimba" composition took the 1st place in the "Fantasy" nomination at the Artistic Products contest as part of the 27th international exhibition Blade – Traditions and Modernity 2013.
Graceful composition symbolizes a woman carrying a particle of the Universe through space. The blade is made of damascus steel using the iron of the Muonionalusta meteorite; the hilt, symbolizing the hand, has the "Chelyabinsk" meteorite fixed. The hilt is plated with black rhodium – a rare metal of the platinum group, the most expensive noble metal on the planet.
7 FACTS ABOUT THE METEORITE
Footage of meteorite lift from Lake Chebarkul filmed by EuroNews
NASA video about how the Chelyabinsk meteorite fell